This is a printer version of an UnderwaterTimes.com article.
To view the article online, visit: http://www.underwatertimes.com/news.php?article_id=85309107642
---
First-Ever Global Report On Shellfish Finds 85 Percent Of World's Oyster Reefs Have Vanished
May 21, 2009 17:01 EST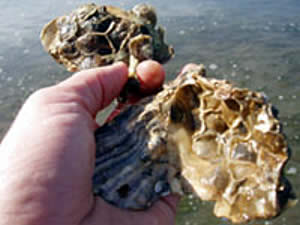 A new report by The Nature Conservancy finds that 85 percent of oyster reefs have been lost worldwide. © Stephen Anderson/TNC
ARLINGTON, Virginia -- The Nature Conservancy has released the first-ever comprehensive global report on the state of shellfish at the International Marine Conservation Congress in Washington, DC. The report, which finds that 85 percent of oyster reefs have been lost worldwide, concludes that oyster reefs are the most severely impacted marine habitat on the planet.
"We're seeing an unprecedented and alarming decline in the condition of oyster reefs, a critically important habitat in the world's bays and estuaries," said Mike Beck, senior marine scientist at The Nature Conservancy and lead author of the report. "However, realistic and cost-effective solutions within conservation and coastal restoration programs, along with policy and reef management improvements, provide hope for the survival of shellfish."
The report, written by scientists across five continents, from conservation organizations as well as academic and research institutions, focuses primarily on the distribution and condition of native oyster reefs.
Besides being a culinary favorite and a long-standing staple in seafood restaurants around the globe, oysters provide benefits to humans in less obvious ways. For example, they act as natural water filters and improve water quality, provide food and habitat for fish, crabs and birds, and serve as natural coastal buffers that help to protect shorelines and keep coastal marshes intact, an important factor in protecting communities against increased storm surges and sea-level rise expected with climate change.
Yet the report's analysis found that oysters are in trouble:
In the majority of individual bays around the world, there has been a greater than 90 percent loss of oyster reef habitat. In some areas, the loss of oyster reef habitat exceeds 99 percent – globally, 85 percent of oyster reefs have been completely lost.
Reefs are functionally extinct in many areas, particularly in North America, Australia and Europe, and no are no longer able to provide any of the ecosystem services that benefit people.
Most of the world's remaining wild capture of oysters comes from only five regions on the east coast of North America, and in most of these regions, oyster reefs are in poor condition or worse.

The driving forces behind the decline of oyster reefs include destructive fishing practices, coastal over-development, and associated effects of upstream activities such as altered river flows, dams, poorly managed agriculture and poor water quality. Many of these threats have been around for decades and even centuries, but today there are two main issues that impede oyster recovery efforts.

According to the report, the first is a widespread lack of awareness that shellfish habitats are in trouble. In nearly all cases, shellfish are managed as fisheries, meaning they are viewed solely as a commodity but are not valued for the intrinsic role they play in keeping marine ecosystems healthy and intact.

The second challenge is the common perception that as native shellfish decline, non-native shellfish can act as an ecologically suitable replacement. Unfortunately, previous introductions of non-native oysters and other shellfish into new areas have spread disease and have had other negative impacts on the surrounding environment.

In Oregon's Netarts Bay, the native Olympia oyster is poised for a comeback, thanks to an intensive effort to re-seed native oysters with the goal of creating a self-sustaining population. Millions of young oysters have been reintroduced to mudflats in the bay by a partnership among conservation groups, industry, government and university scientists, with help from local volunteers.

"All hope is not lost, because in many places like Netarts Bay there's an opportunity to restore native oysters," said Dick Vander Schaaf, Oregon director of coast and marine conservation for the Conservancy. "With support from the local community and other partners, we're demonstrating that shellfish restoration really works. Expanding the effort to other bays and estuaries will help to ensure that the ecological benefits of oyster reefs are there for future generations."

The report lays out specific recommendations drawn from examples around the world, such as the need to elevate native, wild oyster reefs as a priority for habitat management and conservation, and to make better use of protected area policies for the benefit of shellfish.

---