This is a printer version of an UnderwaterTimes.com article.
To view the article online, visit: http://www.underwatertimes.com/news.php?article_id=84679250101
---
Despite 'Irrefutable Evidence', Costa Rica Dismisses Cases Against Illegal Shrimp Trawlers In National Wildlife Refuges; 'Reasonable Doubts'
December 20, 2011 19:37 EST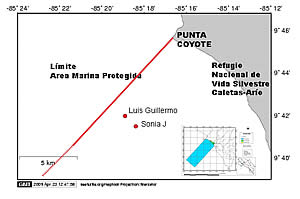 Report location of the illegal shrimp trawlers within the Caletas-Ario National Wildlife Refuge's protected waters
SAN JOSE, Costa Rica -- In an official Incopesca notification PESJ-739-12-2011 received by Pretoma on December 14, the fisheries institute made public its decision to drop two cases of illegal fishing involving two shrimp trawlers within the Caletas-Ario National Wildlife Refuge's protected waters where national laws prohibit their operation.
Click here to see Youtube video.
The vessels Sonia J and Luis Guillermo were caught trawling illegally inside the refuge on April 17, 2009. Both instances were recorded with picture, video, GPS position evidence, and testimony from three witnesses, with the cases being submitted to Incopesca's Judicial Fisheries Procedures Office as formal denouncements. Two years and nine months later, Incopesca announced that its Fisheries Office has dismissed both cases, "as there appear to this Office to be reasonable doubts regarding the calibration and preciseness of the instruments used to support claims that the vessel was found trawling within the limits of the Caletas-Ario National Wildlife Refuge." In addition, the communication's recommendations site that, "in strict application of the Indubio pro reo, it is clearly a case for Minaet and in this instance better handled by the Environmental Administrative Tribunal."
"The national shrimp trawl fleet's violations of the Fishery Law are ongoing and perverse, as Incopesca ALWAYS exempts the industry from abiding by the law as it pertains to Marine Protected Areas, the use of the Turtle Excluder Device, license restriction requirements, and the obligation it has to use authorized docks in the presence of inspectors," affirmed Pretoma's Randall Arauz. "When the accused shrimpers' defense attorney is Lic Alvaro Moreno, a former shrimp businessman who is also a member of Incopesca's board of directors, it's not surprising that these denouncements never result in any sanctions," concluded Arauz.
"Despite the irrefutable evidence that we've declared at two public hearings, Incopesca waited almost three years to rule on the case, demonstrating a lack of political will on the part of the institution touphold the law," said Pretoma's Consultant Erick López, a witness of the denounced illegal fishing operations. "It's obvious that Incopesca's only purpose is to protect the interests of the members of its Board of Directors, and legislate to their own personal benefits or to those of their associates in detriment of the sea turtles that are supposedly protected by these refuges and of the public's interest."
Recently, three more illegal fishing cases involving shrimp trawlers in the Ostional National Wildlife Refuge were also dismissed, though this time by the Santa Cruz Prosecutor's Office.
Vessels like the Sonia J have been denounced over the last few years for illegally fishing within the Caletas-Ario National Wildlife Refuge, the Camaronal National Wildlife Refuge, and in the Guanacaste National Park's protected waters without suffering and consequences.
The reluctance to apply the law as it pertains to illegal fishing efforts within Marine Protected Areas is a violation of the following national legislation:
Fisheries and Aquaculture Law 8436 Article 9 Article 32 Article 38 Article 39 Article 140
Environmental Organic Law 7554 Article 35 Article 42
Wildlife Conservation Law 6919 Article 43, Transitory
---