This is a printer version of an UnderwaterTimes.com article.
To view the article online, visit: http://www.underwatertimes.com/news.php?article_id=84537260191
---
DAN America Insurance Dumped at 10 Popular Dive Destinations; Cozumel, Belize, Bahamas, Galapagos...
March 9, 2006 19:33 EST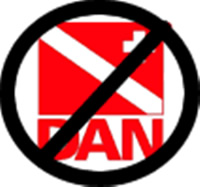 DURHAM, North Carolina -- In a news release dated March 9, 2006, hyperbaric chamber operators from some of the world's most popular dive destinations have announced they will no longer accept DAN America insurance. The destinations include The Bahamas, Baja California, Belize, Cancun, Cozumel, Galapagos, Phuket (Thailand), Playa del Carmen, Samui (Thailand), and the Yucatan (Mexico).
The press release states that all divers carrying DAN America dive insurance and diving in these locations should be prepared to pay out-of-pocket for any medical service rendered, because these chambers will not accept DAN America's insurance or DAN America's credit card as a method of payment. Hyperbaric chambers in other locations are currently considering joining this group and not accepting DAN America insurance.
This consortium of chambers has been forced to sue DAN America in federal court in the United States due to unpaid medical claims, some dating as far back as 2004. The financial burden of not being paid has forced several chambers in remote locations to consider closing down. In order to remain open, these chambers can no longer treat DAN America patients and not be paid.
The release also notes that while DAN America is a non-profit research organization based in the US, its insurance product is underwritten/re-insured by a for-profit organization that is wholly-owned by DAN America called Accident & General Insurance Ltd., based in the Cayman Islands. DAN America has claimed a rate dispute as the reason for non-payment, saying that the rates are above what DAN America considers reasonable and customary in the locality. However, major medical insurers (including Blue Cross BlueShield, Humana, Prudential and Kaiser Permanente), DAN Europe, DAN Southern Africa, DAN SEAP as well as all other dive insurers have accepted these same rates as appropriate and paid their bills.
This action only applies to DAN America insurance and not any other insurance coverage including DAN Europe, DAN Southern Africa, DAN Japan or DAN SEAP.
This announcement comes on the heals of an announcement by SSS (Sub-aquatic Safety Services), with chambers in Mexico, Belize and Thailand, and an announcement by the Bahamas Hyperbaric Centre, LTD, both saying that they would no longer accept insurance from DAN America over billing disputes.
DAN responded to an earlier announcement saying the dispute was over what constituted "reasonable and customary" charges for treatment of decompression illness. DAN claims Mr. Mauricio Moreno, owner of SSS, says his charges are "reasonable and customary," even if the charges are significantly higher than similar services elsewhere.
---