This is a printer version of an UnderwaterTimes.com article.
To view the article online, visit: http://www.underwatertimes.com/news.php?article_id=81074061935
---
Shark Conspiracies: Interview With Lemon Shark Attack Victim Al Brenneka
June 8, 2007 10:55 EST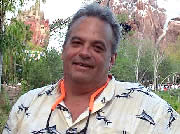 Al Brenneka lost much of his right arm during a brutal attack by a lemon shark at Delray Beach, Fl. while surfing with some friends.
SAN DIEGO, California -- The June, 2007 episode of Shark Conspiracies is now available for free download. Shark Conspiracies explores shark sightings and attacks in a new way, by exposing the cover-ups and misinformation sometimes generated from tourism and conservation interests. Shark Conspiracies claims to be both "pro shark" and "pro truth."
The June, 2007 episode features a gripping (and sometimes graphic) interview with Al Brenneka, who was attacked by a lemon shark at a Florida Beach in 1976. Hear about the details of the attack, the conspiracies committed afterward, and about Mr. Brenneka's current work in support of shark attack victims everywhere. The podcast runs just under 24 minutes.
"The interview with Mr. Brenneka was jaw dropping," said show host Kevin Harris. "As someone who experienced a horrific attack personally, he has insight that no researcher or expert can match," Harris added.
Shark Conspiracies is available to listen or to download for free at sharkconspiracies.net. The podcast is recorded in Southern California, where Mr. Harris resides.
---