This is a printer version of an UnderwaterTimes.com article.
To view the article online, visit: http://www.underwatertimes.com/news.php?article_id=79810532610
---
Researcher: 'Two-Mouthed' Trout Caused by Injury, Not Genetics
February 8, 2006 16:24 EST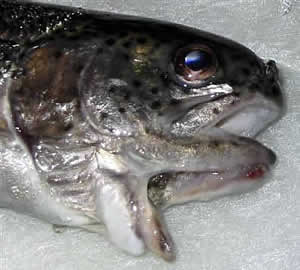 the trout's injury is thought to have been caused by a severed jaw muscle
CAMBRIDGE, Massachusetts -- Clarence Olberding of Lincoln thought he had the catch of the day when he hooked a trout with two mouths. But a Harvard University researcher who examined the severed fish head said the unusual deformity was caused by an injury and not a genetic mutation.
"Our preliminary analysis of the 'two-mouthed' trout revealed that the condition was caused by an injury to the fish earlier in its life, rather than a genetic repeat or other mutation," wrote James Lee, a research fellow at Harvard's Museum of Comparative Zoology.
Lee said it appeared that a muscle in the trout's mouth was severed in the past, causing thin membranes between the lower jaw bone and the floor of the mouth to split. He said that caused the floor of the mouth to drop.
"This gives the appearance of two jaws. It also results in the fish having no practical floor to its mouth," Lee wrote in an e-mail.
Despite the odd condition, Lee wrote, the trout appeared to be in good health and was able to live, feed and grow to adult size. The fish came from a Nebraska fish hatchery.
Olberding, 57, caught the unusual trout at Holmes Lake in December. The trout had a normal mouth and another one below it that led nowhere. He snapped photos of the fish and then cut off the head and put both pieces in the freezer.
Lee caught wind of the two-mouthed trout after news outlets nationwide ran the story. He asked Olberding to send him the frozen fish head, so he could study it to see if it could shed some light on jaw development in fish, and possibly humans.
Olberding said Wednesday that he was a "little bit" disappointed at the findings.
"I was hoping that there was something there genetically and it would open doors in new areas," Olberding said.
Since his famous catch, Olberding has had been interviewed or contacted by a dozen radio stations. He even got a call from a radio station in the Netherlands, but was out of town. He also received a newspaper clipping that appeared in a "Stars and Stripes" issue someone saw in Afghanistan.
"It's been a very interesting couple of months and I had a lot of fun with it," Olberding said.
So what happened to the rest of the fish?
"We ate it over the holidays," Olberding said. "A little Bud Light and smoked fish goes a long way."
source: http://www.journalstar.com/
---