This is a printer version of an UnderwaterTimes.com article.
To view the article online, visit: http://www.underwatertimes.com/news.php?article_id=76825130910
---
Bigger Isn't Always Better In University Of Miami's Underwater Photo Contest; 'Just Spectacular'
April 21, 2011 16:15 EST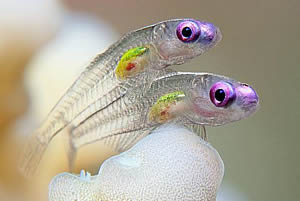 Germany's Tobias Friedrich winning picture of two gobies.
MIAMI, Florida -- Tobias Friedrich of Germany has been named the Overall Winner of the 2011 Annual Underwater Photography Contest hosted by the University of Miami (UM) Rosenstiel School of Marine & Atmospheric Science. The winning photograph was submitted under the Macro category and depicted two extremely small Goby fish, no bigger than an inch, spotted on a dive near Marsa Alam, Egypt.
"I spotted the first Goby and set up my camera for a close angle. Slowly I was approaching the small fish so that it could fill out the picture a bit more. When I was ready for the shot, surprisingly a second Goby came out of nowhere and placed itself on top of the first one. I immediately took 2–3 shots before the second Goby disappeared. Right after, I quickly checked the images on the back of my camera for exposure and sharpness and was happy that I captured this special moment which only took 1–2 seconds," says Friedrich.
A panel of experts, including photographer and UM lecturer Myron Wang, underwater photographer Nicole Wang, Rosenstiel School Marine Biology & Fisheries Professor Michael Schmale, and Professional Photographer Brian Call judged more than 600 photos from 20 countries. Awards were given in three categories, Macro, Fish or Marine Animal Portrait, Wide Angle, and Best Overall submission. The School also recognizes the Best UM Student Photo, which this year was submitted by Laura Rock.
"The winning photograph has it all… color, balance and symmetry. The translucent Goby are just spectacular!" says Myron Wang of the winning photograph.
Other winners listed by category, include:
Macro
1.Michael Gallagher
2.Jordi Benitez
3.Erica Antoniazzo

Fish or Marine Animal Portrait
1.Steven Kovacs
2.Susan Mears
3.Luc Rooman

Wide-angle
1.Luc Rooman
2.David Barrio Colongues
3.Jackie Campbell

The underwater photography contest is held annually, and is open to all amateur photographers who earn no more than 20 percent of their income from their photography. The winning prize is a trip on Blackbeard's Cruises departing from Freeport, Bahamas. View all the winning photographs here.
The winner was announced at a reception on April 20, following the Sea Secrets lecture series featuring UM Associate Professor and Director of the Leonard and Jayne Abess Center for Ecosystem Science and Policy, and National Geographic Emerging Explorer, Kenny Broad.
---