This is a printer version of an UnderwaterTimes.com article.
To view the article online, visit: http://www.underwatertimes.com/news.php?article_id=75010968341
---
Florida Releases Public Health Resource Guide On Harmful Algal Blooms
July 7, 2009 21:00 EST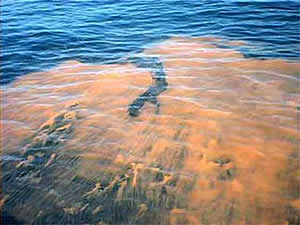 Image of the red tide toxin, brevetoxin. credit NOAA.
TALLAHASSEE, Florida -- The Florida Fish and Wildlife Conservation Commission and the Florida Department of Health recently released a new tool to assist local health officials when responding to harmful algal blooms in Florida. The Resource Guide for Public Health Response to Harmful Algal Blooms in Florida addresses critical HAB issues that may affect the health of Florida's residents and visitors and recommends procedures to handle events and minimize their impacts.
In Florida, many species of harmful microscopic algae can affect fish and wildlife, and some can cause human illness. The guide is the first reference that compiles critical information related to these species as well as other harmful algal bloom issues in one easy-to-use source.
Along with suggested operating procedures, the guide includes background information on harmful algal blooms, descriptions of different potential scenarios and contact information for various bloom-related organizations.
In addition to being a go-to reference for health officials, the guide provides easy-to-read information for the public to learn about this topic.
Based on recommendations from the Public Health Technical Panel of Florida's Harmful Algal Bloom Task Force, scientists and managers developed the guide to meet the critical need for this resource.
The guide is available at http://research.MyFWC.com/features/view_article.asp?id=32552.
---