This is a printer version of an UnderwaterTimes.com article.
To view the article online, visit: http://www.underwatertimes.com/news.php?article_id=64072910518
---
New World-Record Speed Set At International Human-powered Submarine Races; 'Batwing And Manta Ray-like' Power
June 28, 2007 20:15 EST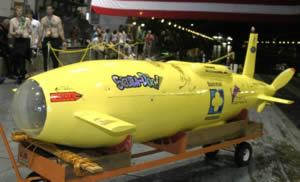 A submarine featured at the competition
CARDEROCK, Maryland -- A Canadian team has set a new world speed record of 7.926 knots in early trial runs at the 9th International Submarine Races underway this week at the Naval Surface Warfare Center's Carderock Division David Taylor Model Basin in Bethesda, Maryland.
The biennial engineering design competition got underway Monday with 23 experimental human-powered submarines participating. The event challenges the engineering creativity of college, high school and independent students, inventors and entrepreneurs.
The new speed mark was set by a submarine called OMER 5, crewed by Sebastien Brisebois and Joel Brunet from the Ecole de Technologie Superieure at the University of Quebec, Montreal, Canada. The previous world record was 7.061 knots set by OMER 4 in June, 2005. OMER team members were predicting that they might finally break the eight-knot mark, a speed previously deemed unachievable by human-powered submarines.
Event leaders have praised the innovation of a brand new one-person submarine, OMER6, also from the Quebec team, which has a radical propulsion system utilizing oscillating wings on each side of the forward fuselage. This submarine has shattered all previous non-propeller design speed records by achieving 4.331 knots. Powering OMER6 is Nicolas Tardif.
The fastest American team has been Texas A&M's Maroon Harpoon, which has achieved a speed of 5.022 knots with Luke Savoie providing propulsion. Former world champion submarine team Florida Atlantic University has recorded a best speed of 4.299 knots in its effort to regain prominence in the world of human-powered submarine design.
The one- and two-person teams are battling it out against the clock on the 100-meter course this week for recognition of achievement in best overall performance, use of composite materials, innovation and speed. Organizers say that they will increase the degree of difficulty this year with a three-dimensional slalom course permitting tandem races between selected teams to be held on Friday.
"We have seen an explosion of remarkably innovative new designs this year compared to past races," said Head Judge Claude Brancart, who is in charge of contestant liaison. He said some of these innovations include "batwing and manta ray-like" power, bird flight wings, whale tails and water wheel turbines in addition to conventional propeller designs. Brancart points out that speeds have increased steadily over the history of the event, dating back to 1989. Mr. Brancart notes that experimental technology in human-powered submarine design has seen increased use of computer-aided variable pitch propellers and electronic underwater navigation systems.
Typical teams consist of student athlete/engineers, wearing scuba gear as the subs are "wet", meaning filled with water. Propulsion is provided by team members' legs driving a sprocket or transmission device attached to shafts and propellers.
ISR Executive Director Nancy R. Hussey notes that "the submarine races demonstrate the value of encouraging bright and creative students to apply what they have learned. We continue to be delighted by their ingenuity. The ISR provides an education in reality for marine technology and ocean engineering students by inspiring them to design, build and operate their own submarines."
School Teams Participating in 2007:
Sussex County Technical High School, Sparta, NJ University of Michigan, Ann Arbor, MI University of Washington, Seattle, WA Ecole de Technologie Superieur, Montreal, PQ, Canada (2) Texas A&M University, College Station, TX Florida Atlantic University, Boca Raton, FL Western Washington University, Bellingham, WA University of Veracruz, Verazruz, Mexico Virginia Tech University, Blacksburg, VA Hernando County Schools, Spring Hill, FL (2) University of Florida, Gainesville, FL Everett Community College, Everett, WA Millersville University, Millersville, PA University of Maryland, College Park, MD (2) University of Bath, Bath, United Kingdom University of British Columbia, Vancouver, BC, Canada U.S. Merchant Marine Acadamy, Kingspoint, NY University of California at Sandiego, CA Ecole Polytechnique de Montreal, Canada
Independent Teams Participating:
Bruce Plazyk, Wheaton, IL (2) Don Burton, Frederick, MD
---