This is a printer version of an UnderwaterTimes.com article.
To view the article online, visit: http://www.underwatertimes.com/news.php?article_id=59012638410
---
Bass Angler Pearson Qualifies For Weekend Action For First Time In His Career; 'I'Ve Been Waiting 10 Years For This Day'
June 3, 2011 19:04 EST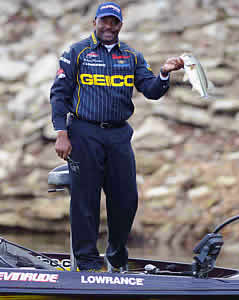 Geico angler Robert Pearson made the weekend cut for the Walmart FLW Tour event at National Harbor
NATIONAL HARBOR, Maryland -- GEICO angler Robert Pearson had one of his best days ever as a professional Friday on the Potomac River and advanced to the third day of the Walmart FLW Tour event at National Harbor.
Pearson snagged five bass weighing 15 pounds, 12 ounces Friday to qualify for Saturday's competition for the first time as a pro. Pearson's two-day total was 28 pounds, four ounces -- good enough for 20th out of 154 who fished in the tournament.
Only the top 20 advance to Saturday's action, and from that group the top 10 will advance to Sunday's finals. Pearson aims to be one of those, too.
"I'm only fishing against 19 guys now – not 200," said Pearson, who added his chances of fishing Sunday are "really good."
Pearson began fishing on the elite FLW Tour Majors Division in 2003 but had never fished past the second day until Friday.
"Let me tell you something: I've been waiting 10 years for this day," Pearson said. "After 10 years of struggling and grinding and grinding and struggling, it's finally happened. Someone from GEICO told me, 'Rob, just be yourself. You have nothing to lose. I'm on your side, GEICO is on your side.'
"It's such a relief to know that, yes, you're struggling at times, but you're doing the right thing. To have somebody in your corner like GEICO step up and say 'go be yourself, do your thing and things will work out,' is great."
Pearson entered Friday's action with 12 pounds, eight ounces, ranking 50th. But the Herndon, Va., native grew up fishing on the Potomac and used that experience to his advantage Friday.
"I just went through a whole batch of stuff that worked years and years ago," Pearson said. "I went to old-fashioned stuff. The fish were not in their usual spots because of all the wind that destroyed our main focus point. And it worked. The fish were there, and it was on from there. It was pretty awesome."
His wife Jackie was in attendance for the first time this year, and in an interesting twist, Pearson was boat No. 20 Friday – the same position he finished.
"Unbelievable," Pearson said. "I'm excited, all the people here are excited. I've got a lot of energy for tomorrow. It's on."
---