This is a printer version of an UnderwaterTimes.com article.
To view the article online, visit: http://www.underwatertimes.com/news.php?article_id=57412396810
---
14-year-old Kiwi Lands 'World Record' 268kg Bluefin Tuna; 'He Played It Brilliantly'
August 22, 2008 18:03 EST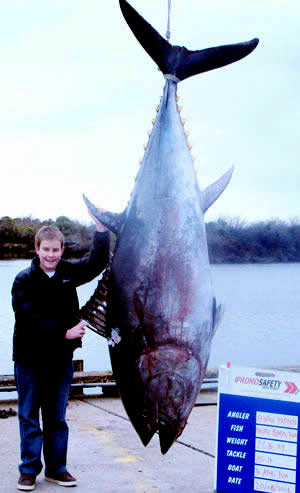 Andrew Hargen, 14, of Christchurch, with the giant bluefin tuna he caught off Westport.
CHRISTCHURCH, New Zealand -- Fourteen-year-old angler Andrew Hargen may have netted himself a world record when he hooked this bluefin tuna off Westport.
Andrew, of Christchurch, caught the 268kg (590 pound) pacific bluefin tuna off the charter boat Te Ariki Nui on Thursday.
The fish took just over an hour to land on an 80lb line.
Andrew is no stranger to catching big fish. At age seven he caught a 117kg marlin in the Bay of Islands.
His father, Alan Hargen, said the catch could be a world record for Pacific bluefin tuna in his son's age group.
"He played it brilliantly."
---