This is a printer version of an UnderwaterTimes.com article.
To view the article online, visit: http://www.underwatertimes.com/news.php?article_id=54371962810
---
Snakes in the Drain: Python Alert After Malaysian Restaurant Dumps Protected Reptile
January 8, 2007 16:27 EST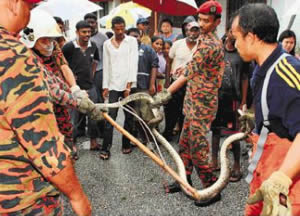 Malaysian firemen handling the snakes pulled from the drain
IPOH, Malaysia -- Workers of a restaurant illegally offering python meat are believed to have released about 40 of the reptiles into a monsoon drain in Taman Bintang Fahlum.
Firemen managed to catch six live pythons and retrieve a dead one, but the remaining reptiles are believed to have escaped.
The discovery was made by school guard George Arokia, 41, who spotted a lorry stopping by the drain at 5pm. He saw two men throwing something into the drain.
Arokia thought they were fish since they "jumped about" and swam in the drain.
When the men left, he went to check and was shocked to see several pythons.
"There were many of them in the drain so I called the fire and rescue services."
Ipoh fire station officer Abdul Manap Hashim and his six-man team caught the six pythons within an hour.
"We believe this might be the work of an illegal restaurant selling meat of protected animals. The ones we caught were quite big, one about eight metres long which weighed nearly 40kg," he said.
The monsoon drain flows into Sungai Kepayang.
Abdul Manap advised residents to be careful and warned children not to venture near large drains.
"Call us immediately if you come across a python," he said.
---