This is a printer version of an UnderwaterTimes.com article.
To view the article online, visit: http://www.underwatertimes.com/news.php?article_id=53817104960
---
Exclusive! Necropsy Photos Released from World Record Pregnant Hammerhead Shark
August 8, 2006 11:24 EST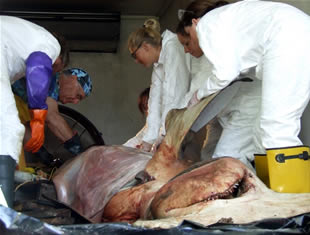 Mote researchers examining the great beast.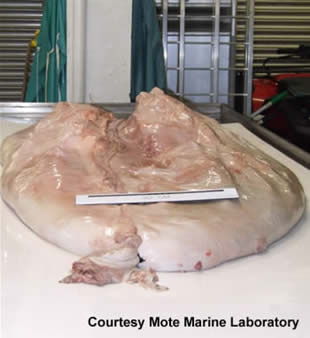 The placenta from the great white shark; the ruler reads 30cm, or approx. 1 foot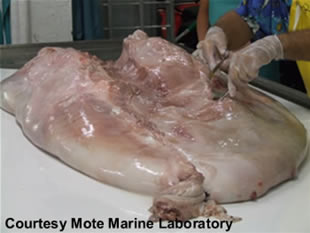 Cutting into the placenta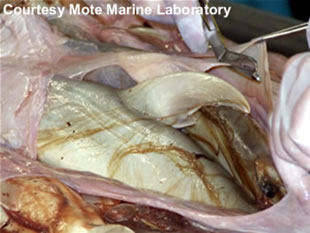 Close-up of shark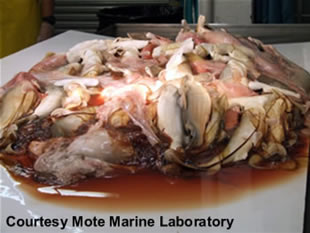 All the sharks exposed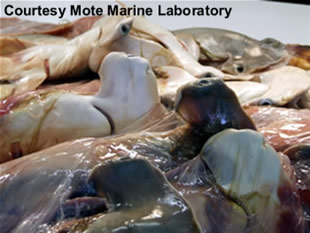 The shark was thought to be days away from giving birth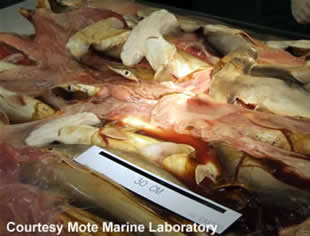 The hammerhead was carrying a record 55 sharks; 30cm equals appox. 1 foot
MIAMI, Florida -- Underwatertimes.com has obtained photographs from the necropsy of the world-record great hammerhead shark caught by a recreational fishermen in May off Boca Grande, Florida. The necropsy was performed by scientists at the Mote Marine Laboratory in Sarasota, Florida.
The results from the necrospys follows:
The shark was measured at 14 feet long and 1,280 pounds, with its hammer measuring more than 3 feet across. The great hammerhead, Sphyrna mokarran, was found to have 55 shark pups, including 52 that were nearly full-term and three that were undeveloped. That represents the largest litter of pups ever found in a great hammerhead shark and scientists at Mote believe this shark was just days away from giving birth. Experts previously believed that great hammerheads gave birth to 20 to 40 pups at a time, so the information gathered from this shark is new knowledge about the species. By comparison, whale sharks – the biggest fish in the ocean – give birth to about 300 pups at a time and smaller sharks give birth to two to 10 pups at a time.
Other notable findings from the necropsy:
The hammerhead's reproductive tract weighed nearly 250 pounds
Her stomach contained a whole southern stingray, believed to be the fisherman's bait, and the rear half of an approximately 5-foot-long tarpon, in addition to numerous tarpon scales. The shark also had a small fishing hook inside her stomach.
Her liver weighed more than 100 pounds.
Some of the pups are being saved for future study and scientists have taken samples to be analyzed for genetic makeup. The samples will provide information about the number of males that fathered the pups.
While the status of great hammerheads in the wild is uncertain – and it is legal to harvest them experts believe their populations are depleted due to fishing pressure and habitat loss.
"Although we are thankful that the fisherman gave this unique specimen to Mote, and we are learning a lot about this species from this large female shark, we were saddened to see so many unborn pups inside her so close to birth," said Dr. Robert Hueter, director of Mote's Center for Shark Research. "We ask fishermen not to kill sharks for sport and to remember that shark populations have been severely depleted by overfishing. Very large sharks like this hammerhead are often pregnant females that help maintain the status of the species' population into the future. We advocate release of these large sharks and the tagging of them whenever possible." The shark carcass has been moved to Ocean Creations in Dover, Fla., where owner Steve Brancati will take a plaster cast for mounting. A full cast will be made and an educational exhibit about sharks and their status will be created at Mote Aquarium. Mote expects the shark display to go up in the fall.
---