This is a printer version of an UnderwaterTimes.com article.
To view the article online, visit: http://www.underwatertimes.com/news.php?article_id=53206147109
---
Stranded Dolphin Rescued From The Wild Ready For New Home At Zoo; 'Taz Has Been A Wonderful Little Patient'
February 24, 2011 09:00 EST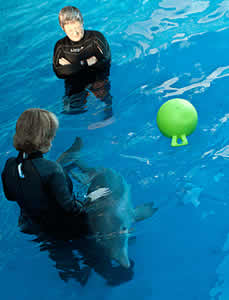 Mote staff working with stranded dolphin 'Taz'. 'Taz' is ready to be moved to his new home at the Indianapolis Zoo. credit Mote Marine Lab
SARASOTA, Florida -- The young bottlenose dolphin brought to Mote after stranding on a sandbar off Sanibel Island will soon be moving to a new permanent home.
"Taz," a male dolphin estimated to be about 6 months old at stranding, was brought to Mote's Dolphin and Whale Hospital after being found on Jan. 13 on a sandbar in the J.N. Ding Darling National Wildlife Refuge on Sanibel Island.
Why Taz stranded remains uncertain, but rescuers found him separated from his mother, who was not in sight. Bottlenose dolphin calves typically stay with their mothers until they are 3 to 6 years old, depending on them for food, protection and to help them learn how to feed independently and safely navigate the environment.
Without a parent to guide him, the federal authorities who oversee the protection of wild marine mammals — the National Oceanic and Atmospheric Administration's National Marine Fisheries Service (NMFS) — have determined that Taz could not survive on his own and should not be returned to the wild.
Instead, Taz will be moving to a new home where he can live with a suitable social group. NMFS selected the Indianapolis Zoo as his new home for several reasons, including the fact that the Zoo presented the opportunity for Taz to socialize with adult females almost immediately, as well the highly experienced husbandry and veterinary team there.
Taz will live with seven other dolphins, including two males and three females. "The social dynamics of our dolphin group will provide the opportunity for Taz to become a member of a real dolphin 'family,'" said Robert Shumaker, Vice President of Life Science at the Indianapolis Zoo. "We anticipate that more than one of our adult dolphins will help with his adjustment to the group. I also want to commend Mote Marine Laboratory for their excellent care of this dolphin. Taz has gained over 20 pounds at Mote, which speaks volumes about the time, effort and expertise devoted to his recovery. We are happy to be in a position to partner with them in this case."
Since Taz's arrival in January:
Mote staff and volunteers have monitored Taz around the clock for nearly 1,000 hours.
He has gained more than 20 pounds.
He has been fed every few hours with formula designed for bottlenose dolphin calves and is now eating nearly 3-and-a-half liters per day.
Taz's caretakers have begun showing him fish, with the goal of eventually weaning him off formula. Weaning is a normal and gradual process for bottlenose dolphin calves. He has begun to interact playfully with the fish, which is a first step toward weaning.
"Our staff and volunteers have really gone to extraordinary lengths to care for Taz around the clock since his arrival," said Lynne Byrd, Mote's Animal Care Coordinator. "It's been wonderful seeing him progress during his stay here at Mote. We wouldn't be able to provide such great care without volunteer help from the community and support from donors. Taz has been a wonderful little patient."
Details about the move are still being finalized, but it is expected to take place soon.
You can help: Mote relies on donations to help keep our Dolphin and Whale Hospital and our Sea Turtle Rehabilitation Hospital open so that we may act at a moment's notice to care for animals that are sick and injured. To make a donation, go to www.mote.org/hospitalhelp.
---