This is a printer version of an UnderwaterTimes.com article.
To view the article online, visit: http://www.underwatertimes.com/news.php?article_id=43982101057
---
CAFTA To Investigate Costa Rica For Failing To Protect Sea Turtles; 'Authorities Are Reluctant To Implement Laws'
September 6, 2011 19:11 EST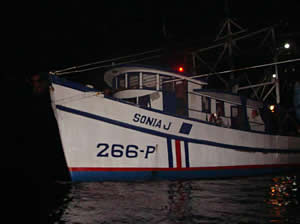 "Sonia J", April 17 of 2009, illegally fishing in the protected waters of the Caletas-Arío National Wildlife Refuge.
SAN JOSE, Costa Rica -- The Secretariat for Environmental Matters of the Central American and Dominican Republic Free Trade Agreement (CAFTA-DR), with headquarters in Antigua, Guatemala, formally admitted a Communication submitted by Pretoma (CAALA/11/005), in which Costa Rica is denounced for failing to effectively implement its environmental legislation.
The communication was submitted last July 13 of 2011 by Pretoma, and it denounces the infraction of the laws that mandate the use of Turtle Excluder Devices (TEDs), the violation of fishing licenses granted to the shrimp trawl fleet for the extraction and sustainable use of marine and fisheries resources, and fishing activities in marine protected areas, also by the shrimp trawl fleet. Now, the Secretariat will proceed to analyze the communication, and will take the corrective measures necessary.
"We hope this will finally stop the shrimp trawl fleet from doing so much harm, not only to the sea turtles and other marine fauna, but also to the artisanal fisheries sector, so needy of sustainable fisheries policies," said Randall Arauz, President of Pretoma. "Laws exist that not only mandate the use of selective fishery technology, but that also determine where the shrimp trawl fleet can't operate and limit fishing effort to shrimp, but the authorities are reluctant to implement them", denounced Arauz.
---