This is a printer version of an UnderwaterTimes.com article.
To view the article online, visit: http://www.underwatertimes.com/news.php?article_id=34612710095
---
Shark Conspiracies: Interview With Griff McConal, Inventor of Sharkcamo, The 'Holy Grail' of Shark Repellants
January 6, 2008 13:33 EST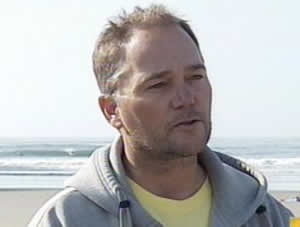 Griff McConal, the Central California Coast surfer who invented the famed "Sharkcamo" decals, for the bottom of surfboards.
SAN DIEGO, California -- The January, 2008 episode of Shark Conspiracies is now available for free download.
This month Shark Conspiracies speaks with Griff McConal, the inventor of Sharkcamo decals. Mr. McConal gave us an exclusive, fascinating interview, and may have discovered the "holy grail" of repelling attacking sharks.
Shark Conspiracies explores shark sightings and attacks in a new way, by exposing the cover-ups and misinformation sometimes generated from tourism and conservation interests.
The 13-minute podcast is available to listen or to download for free at www.sharkconspiracies.net.
---