This is a printer version of an UnderwaterTimes.com article.
To view the article online, visit: http://www.underwatertimes.com/news.php?article_id=18365409271
---
Angler Lands Record 1,228-pound Blue Marlin Off Carolina Coast
August 18, 2008 17:34 EST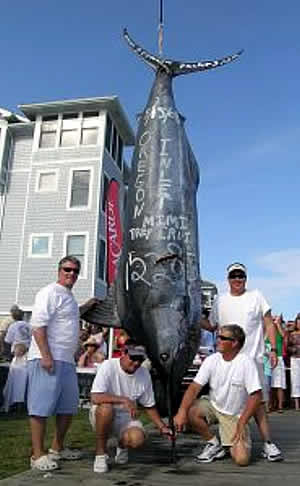 Trey Irvine of Weston, Fla., landed the gigantic fish
MOREHEAD CITY, North Carolina -- A 34-year state record fell Friday with the catch of a 1,228 pound, 8 ounce blue marlin off Oregon Inlet.
Trey Irvine of Weston, Fla., landed the gigantic fish, which measured 179.5 inches total length (tip of the nose to tip of the tail) with a girth of 82 inches.
Irvine caught the fish onboard the Mimi while participating in the Pirate's Cove Billfish Tournament in Manteo. The Pirate's Cove Tournament is the final billfish tournament of the year in the N.C. Governor's Cup series.
The fish thrashes the former state blue marlin record of 1,142 pounds caught off Oregon Inlet in 1974 by Jack Herrington. The world record blue marlin stands at 1,402 pounds, 2 ounces and was caught off Brazil in 1992.
---