This is a printer version of an UnderwaterTimes.com article.
To view the article online, visit: http://www.underwatertimes.com/news.php?article_id=14871005326
---
Vancouver Aquarium's Beloved Steller Sea Lion 'Tag' Succumbs To Cancer; 'Noble Heart, Gentle Soul'
July 1, 2008 18:51 EST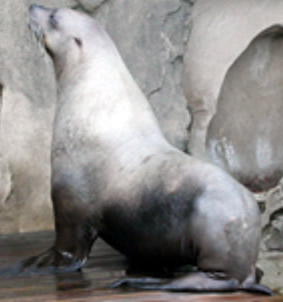 'Tag', Vancouver Aquarium's steller steller sea lion, has died from oral cancer.
VANCOUVER, BC, Canada -- Staff and volunteers at the Vancouver Aquarium are deeply saddened to announce the passing of Tag, a 15 year-old male Steller sea lion. Tag was diagnosed with oral cancer last winter and was in treatment until his death in the early hours of this morning.
Prior to his diagnosis, Tag had a 10 year history of oral and dental problems, including several procedures to remove diseased teeth. A procedure last February for removal of abnormal tissue and teeth allowed a biopsy to be performed which indicated cancer.
During the spring Tag began chemotherapy and laser surgery. In addition, he was treated with new anti-inflammatory and gastric medications intended to make him much more comfortable. The level of expertise, professional resources and treatment Tag received reflected the Vancouver Aquarium's commitment to the highest standards of animal health care.
"Experts from around the world helped us to develop a very sophisticated treatment plan aimed at ensuring that Tag would have the best quality of life possible for his remaining months with us." said Dr. Martin Haulena, Vancouver Aquarium Staff Veterinarian.
Animal care staff observed abnormal bleeding in Tag's mouth. Dr. Haulena decided to anaesthetize Tag last evening to further examine his mouth and to perform surgery in the Aquarium's veterinary hospital facilities. The surgery revealed major problems in the mouth caused by a highly invasive and progressive carcinoma. Despite the medical team's best efforts Tag failed to fully recover from the procedure and passed away shortly before 2am.
"I am very proud of our animal husbandry and veterinary teams that worked selflessly over the last few weeks. Tag was truly one of the most unique marine mammals that any of us have had the pleasure to work with. He will always be remembered for his noble heart, playful character, and gentle soul. He allowed us incredible insight into the world of Steller sea lions." said Clint Wright, Vancouver Aquarium, Senior Vice President, Operation & Planning.
Tag first arrived at the Aquarium as a two-week-old pup in 1993 as part of an original group of Steller sea lions participating in studies conducted by UBC Marine Mammal Research Unit researchers who are part of the North Pacific Universities Marine Mammal Research Consortium. Since 1980, more than 80% of the world Steller population has disappeared, leaving fewer than 75,000 individuals. Tag participated in comprehensive studies, the first of their kind, designed to explore the hypotheses that are thought to explain the population decline. The studies have provided hugely valuable information that is otherwise unobtainable from wild animals.
The Vancouver Aquarium is a self-supporting, non-profit association dedicated to effecting the conservation of aquatic life through display and interpretation, conservation practices, education, research, and direct action.
---