This is a printer version of an UnderwaterTimes.com article.
To view the article online, visit: http://www.underwatertimes.com/news.php?article_id=14761032058
---
Researcher: Sharks Getting Smarter, 'Learning Our Techniques' For Tagging
March 18, 2008 09:35 EST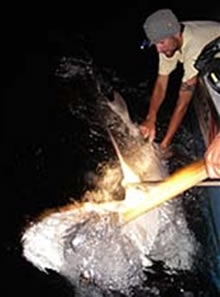 Steve tagging a lemon shark at night. credit: Tony Grogan
CARDIFF, U.K. -- Could sharks be catching on to human techniques for tagging them – and learning how to avoid them?
That's the theory of Steve Kessel, an Earth and Ocean Sciences PhD student who has spent the past three years working at the world-renowned Bimini Biological Field Station, also known as Shark Lab, in the Bahamas.
Steve is studying population trends among lemon sharks and believes current research techniques may underestimate numbers – because sharks are getting wise to human methods of counting.
Traditional methods of tagging sharks have involved putting bait on a long line, then implanting a transmitter once it bites.
However, Steve said: "The sharks do seem to be getting smarter and learning our techniques. They've realized it's not a good thing to be eating this free food any more."
Steve is using other techniques to tag sharks, including using skiffs to corral them into shallow water where they can be netted, and aerial surveys for abundance counts. However, as lemon sharks can grow upwards of three meters in length and are reckoned to be the 10th most dangerous species in the world, the first method has its risks.
Steve said: "Like most sharks, they are fine as long as you leave them alone. When you mess around with them, they can become difficult to handle and can have a pretty nasty bite. You have to be fairly confident about dealing with them, but without getting complacent – that's what gets you bitten."
Despite the risks, Steve has found his time at Bimini extremely rewarding. He has been encouraged by the trends he has seen among shark families, giving hope that the population situation is better than was feared.
He has been joined in the Bahamas by another Earth and Ocean Sciences student, Mark Bond, who is on a placement there as part of his course. Both have seen close up the worldwide media interest in Shark Lab. Steve has featured on the Discovery Channel and Sky One. His work has now just appeared on NBC and has been filmed by the BBC for a new documentary about the oceans.
---