This is a printer version of an UnderwaterTimes.com article.
To view the article online, visit: http://www.underwatertimes.com/news.php?article_id=10928074561
---
Mote Reports Death Of 'Harley', Rehabilitated Spinner Dolphin
September 23, 2011 19:47 EST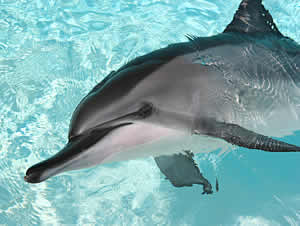 SARASOTA, Florida -- Mote Marine Laboratory and Aquarium staff are sad to announce the death of a female spinner dolphin named Harley on Friday morning, Sept. 23, 2011.
Harley, a Stenella longirostris, came to live at Mote in March 2005. She was about a year old when she stranded in April 2004 on Mustang Island, Texas. She was taken to the Animal Rehabilitation Keep at the University of Texas Marine Science Institute by the Texas Marine Mammal Stranding Network for rehabilitation. She was later deemed non-releasable by the National Marine Fisheries Service (NMFS), the agency that oversees the care and protection of wild marine mammals.
Harley was non-releasable because of her young age — dolphins typically stay with their mothers for three to six years — and because of a chronic stomach condition. When NMFS sought a more permanent home for Harley, they chose Mote.
The cause of death is unknown at this time and we are planning a necropsy, or animal autopsy, along with additional tests to help us achieve a better understanding of why Harley died. It is possible that we might never fully know the cause of death.
Spinner dolphins are typically found in deep water far from shore, so providing a long-term home to Harley allowed Mote to learn more about spinner dolphin behavior and biology and share that knowledge with Mote Aquarium's many visitors.
We are grateful to the many members of our animal care staff, our volunteers and our interns who have helped us care for Harley. While we are saddened at this loss in our animal family, we are thankful for all the help and support that enabled us to provide Harley a good home here at Mote.
For the time being, Mote Aquarium's dolphin lagoon area and the nearby gift shop in the Marine Mammal Research and Rehabilitation Center will remain closed to visitors. We are also closely monitoring Harley's tank mate, Moonshine, during this time period. Donations in memory of Harley can be made to Mote's Dolphin and Whale Hospital online at www.mote.org/hospitalhelp.
---