This is a printer version of an UnderwaterTimes.com article.
To view the article online, visit: http://www.underwatertimes.com/news.php?article_id=10914537206
---
Miami Charterboat Owner Indicted On Conspiracy, Wire Fraud, Obstruction Of Justice And Fisheries Violations
July 27, 2007 06:05 EST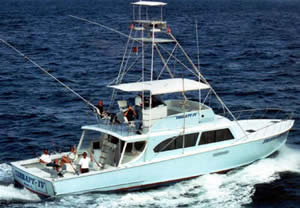 Owners of the Miami-based Therapy IV boat have been indicted on charges related to landing undersized billfish and a taxidermy scheme
MAIMI, Florida -- The owner and four employees of the Miami-based Therapy IV charterboat operation have been indicted on charges of keeping undersized billfish and pressuring customers to pay to have them mounted.
According to the allegations of the indictment, during the period from October 2003 through May 2005, the individual defendants and the companies charged, knowing boated undersized billfish. The master of the vessel in each of the charged instances failed to comply with State of Florida and federal requirements that the landings be reported to federal authorities. Further, the indictment alleges that an undisclosed deal existed between the charter operation and a local taxidermy company, to pay the crew and boat owners for inducing anglers to sign contracts for mounting the sailfish that were caught.
The contracts were secured through the making of false representations to the anglers, and/or the omission of material facts, including, among other things, concealing the lack of required permits and licenses for the Therapy-IV vessels to harvest billfish and that illegally undersized billfish would be harvested and landed. Defendants also concealed from the customers that the sailfish need not be killed and landed to secure what would be a mere replica mount constructed from artificial materials. The coconspirators also falsely asserted that the taxidermy company needed and would use parts of landed billfish in preparing the mounts for the anglers who paid for the fishing charters.
The wire fraud charges, based on the scheme to defraud the anglers, resulted from the defendants' practice of requiring credit card deposits of between $214.00 and $1,860.00 from the anglers, while they were still aboard the charter boat. The processing of the credit card deposits involved interstate transmissions to secure authorization from the issuing institutions.
The Indictment also charges that Stanley S. Saffan, Sean P. Lang, and Brian M. Schick with engaging in obstruction of justice in May 2005. Incorporated within the charges is a count seeking forfeiture, upon conviction, of the two Therapy vessels used in the Lacey Act violations. The conspiracy and each Lacey Act charge against the 5 individuals carry possible prison terms of 5 years. The wire fraud and obstruction of justice charges each carry a maximum sentence upon conviction of 20 years. In addition, the court may order criminal fines against the individuals of up to $250,000 for each count of conviction. The corporations each face possible criminal fines of $500,000 on each count in which they are named.
---