This is a printer version of an UnderwaterTimes.com article.
To view the article online, visit: http://www.underwatertimes.com/news.php?article_id=10873069412
---
Shark Wrangler, Stuart Cove, Featured On ABC's Good Morning America Weekend TV Shows
May 22, 2009 17:02 EST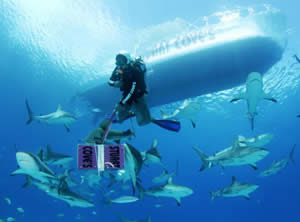 Curious sharks inspect shark wrangler Chang as he enters the water with a conatiner of Mahi Mahi. photo credit Stuart Cove's Dive Bahamas.
NEW YORK, New York -- Shark Wrangler, Stuart Cove, was featured on ABC's Good Morning America Weekend Adventure segment aired 5/17/09. Stuart Cove was interviewed and spoke about his famous Shark Dive Adventure at his Nassau, Bahamas operation. Stuart Cove's Dive Bahamas is one of the few places in the world where divers and snorkelers can interact in a safe manner with the ocean's greatest predators, Sharks.
According to Stuart Cove, "Being on Good Morning America was a great experience. Often sharks are portrayed is such a negative light and it was nice to show that the kinds of sharks we dive with in the Bahamas offer divers and snorkelers a safe, fun and high-adrenalin experience. I enjoyed the interview and was glad we were able to showcase a typical shark dive on national television, thanks to ABC." The focus of the Weekend Adventure segment was Shark Diving and the entire interview and topside, and underwater sequences took place at the Stuart Cove's Dive Bahamas, Nassau, Bahamas location.
The interview also featured Chang Chin, one of Stuart's chief shark wranglers, and showed a typical Shark Adventure dive with tourists at Mr. Cove's dive operation. Due to Stuart Cove's extensive experience working with sharks, he also owns and operates a legendary underwater film support production company, Underwater Hollywood, where he works with many feature films and television specials on sharks and diving.
Mr. Cove continues, "We have been fortunate to host and work on several Hollywood blockbuster film projects over the last few years, such as the recent James Bond Film Casino Royale, Open Water, Into The Blue, After The Sunset, and of course, every year for the last several years we have been featured on Discovery Channel's Shark Week. There is just no other place like Nassau, Bahamas for clear water and guaranteed sharks and great diving!"
The Bahamas is unique for filming sharks, as the waters off Nassau offer filmmakers and tourist divers alike an amazing opportunity to dive close-up and personal with Sharks.
The interview aired on ABC's Good Morning America Weekend 5/17/09 with an estimated audience of 3.7 million viewers, and can be seen here on abcnews.com: http://abcnews.go.com/video/playerIndex?id=7607426
---