This is a printer version of an UnderwaterTimes.com article.
To view the article online, visit: http://www.underwatertimes.com/news.php?article_id=10869453017
---
Florida Governor Christ's Wedding Features Florida Farmed-raised Caviar; 'It's Truly An Honor'
December 16, 2008 18:54 EST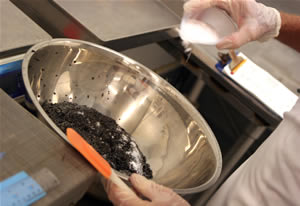 After the eggs are drained, salt is added and gently mixed with a spatula. credit Mote Marine Lab.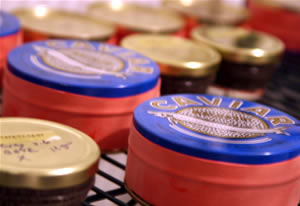 Caviar tins ready for shipment. credit Mote Marine Lab.
ST. PETERSBERG, Florida -- Caviar raised at Mote Aquaculture Park in eastern Sarasota County was served during the wedding reception of Gov. Charlie Crist and Carole Rome at the historic Vinoy in St. Petersburg on Saturday.
According to Mote's wholesale distributor, Tom Neeley of Gary's Seafood and Specialties of Orlando, the governor's wedding planners chose the Mote caviar because it was farm-raised in Florida.
"It's truly an honor for Mote Caviar to be served at Gov. Crist's wedding reception," said Mote President, Dr. Kumar Mahadevan. "As we work to further the aquaculture industry, we truly appreciate the fact that our governor is supporting Florida's farmers."
Mote Aquaculture Park on Fruitville Road is the largest re-circulating aquaculture research facility in the United States. This technology test-bed is a state-of-the-art modern farm focused on developing new fish production techniques miles from any coastline or large body of freshwater. The Park is designed to demonstrate that unlimited water access is not needed, nor environmentally desirable, for large-scale production of food fish and shellfish.
Mote Caviar is grown in a sustainable and environmentally conscious closed-cycle system that focuses on water re-use.
---