This is a printer version of an UnderwaterTimes.com article.
To view the article online, visit: http://www.underwatertimes.com/news.php?article_id=10302917648
---
DAN America, Chamber Operator Reach Settlement; Insurance Again Accepted at All SSS Chambers
April 27, 2006 12:28 EST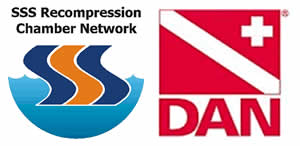 DURHAM, North Carolina -- In a news release dated April 26, 2006, Divers Alert Network (DAN America) and clinic members of the SSS Network of Recompression Chambers (SSS) announce that they have reached a settlement in the recent legal action over billing practices.
Representatives of SSS announced that DAN America insurance is once again accepted as a result of the resolution of the outstanding claims that were the basis for the lawsuit. The terms of the settlement remained confidential. The SSS Network of Recompression Chambers and DAN America have pledged to work closely together to ensure that injured divers will receive the most appropriate and effective medical care.
This announcement brings to an end a long simmering dispute between DAN and the SSS chamber network over what exactly constituted "reasonable and customary" charges. DAN had claimed Mr. Mauricio Moreno, owner of SSS, said his charges are "reasonable and customary," even if the charges are significantly higher than similar services elsewhere. At one point, the SSS chamber network dumped DAN America insurance at ten popular diving destinations around the world.
---