This is a printer version of an UnderwaterTimes.com article.
To view the article online, visit: http://www.underwatertimes.com/news.php?article_id=10164052839
---
Angler Pulls In Texas State Record Bull Shark: 512 Pounds, 9 Feet Long
May 25, 2007 13:24 EST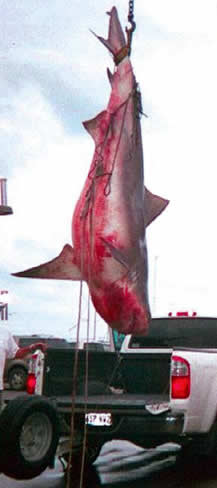 The nine foot bull shark is said to be a state record
PORT ARANSAS, Texas -- A new state record bull shark was caught in Aransas Bay last week by Randall Rickerson of Corpus Christi. The previous state record was a 508-pound shark caught in the Gulf.
This one, caught on Friday, May 18, weighed in at 513 pounds and was nine feet long. Rickerson reportedly had a two hour and 10 minute fight to bring it in and then it took 2-1/2 hours to tow in the boat and shark.
The big catch was stored in the Fisherman's Wharf walk-in cooler until a scale big enough could be brought over to weigh it.
---