This is a printer version of an UnderwaterTimes.com article.
To view the article online, visit: http://www.underwatertimes.com/news.php?article_id=06317458921
---
Necropsy: Seal Found Dead on Massachusetts Beach Hit with Shotgun Blast
February 1, 2007 15:45 EST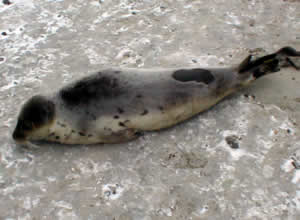 The seal after New England Aquarium biologists relocated it from the boat landing to a nearby beach.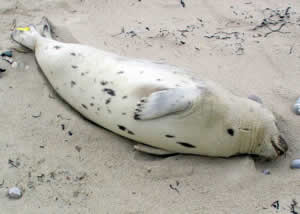 The seal when found dead on Scusset Beach in Sandwich, MA.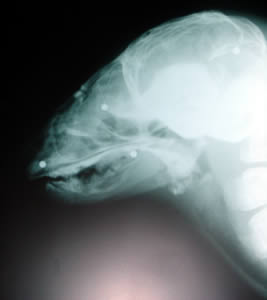 An x-ray of the seal's head showing the shotgun pellets.
BOSTON, Massachusetts -- A necropsy of a yearling harp seal that had been found dead last weekend in Sandwich revealed that the animal had been shot in the head with a blast from a shotgun. The pellets did not penetrate the skull and were probably not the direct cause of death, but federal marine law enforcement authorities are seeking the public's help in finding the culprit. Seals are fully protected under federal law.
Special Agent Todd Nickerson of the National Oceanic and Atmospheric Administration's (NOAA) Office of Law Enforcement is investigating this intentional shooting. The shooting of this animal is believed to have occurred sometime within the last couple of weeks and may have occurred anywhere from Plymouth to upper Cape Cod. NOAA's Office of Law Enforcement is aggressively investigating this intentional violation of the Marine Mammal Protection Act. Anyone with information on this crime can call Special Agent Todd Nickerson directly at 508-990-8752 or a 24 hour hot-line at (800)853-1964. Callers can remain anonymous if desired. Information leading to a conviction of the person or persons responsible for this crime can receive up to $2,500.
This young seal had been seen many people over the previous two weeks. She was first seen at a Plymouth boat ramp near 173 Water St on January 17. After her ongoing presence had attracted significant public attention, the New England Aquarium's marine animal rescue team relocated her to a more remote location at Long Beach in Plymouth on January 22. At that time, the 55 pound, young female was outfitted with a physical tag. Two days later on the 24th, she was sighted on Scusset Beach in Sandwich. On Saturday the 27th, the animal was found dead by passers-by. The carcass was then collected and brought to the New England Aquarium in Boston.
On Monday, Aquarium biologists and veterinarians conducted the necropsy. To their surprise, a small pellet popped out of the skin. Upon closer inspection by palpating the tissue about the head, Aquarium staff found more pellets. An x-ray of the skull revealed that five bird shot pellets were embedded in soft tissue from the nose to the back of the head. This seal had clearly been the victim of a shotgun blast. None of the pellets penetrated the bone of the skull. The wounds were surely painful, but by themselves were not the direct cause of the seal's death. Aquarium veterinarians have not yet been able to discern a definitive cause of death as they are awaiting pathology results.
This juvenile harp seal did suffer from many ailments common to young seals. She had a high parasite load and an elevated white blood cell count, which is indicative of a significant infection. She also had low blood proteins and had not eaten well recently. Seals in their first year of life have high mortality rates. Nature works that way.
Harp seals are wintertime visitors to New England waters. The principal habitat of this species is the Maritime Provinces of Canada. Juvenile harp seals swim into New England waters early each winter and generally leave in the spring. They are the most commonly seen seal in the wintertime from Cape Anne to the Cape Cod Canal. They can be sometimes found in prominent public spaces as their youthful inexperience and lack of contact with people in their remote Canadian habitat leads them to occasionally tolerate prolonged human contact.
---