This is a printer version of an UnderwaterTimes.com article.
To view the article online, visit: http://www.underwatertimes.com/news.php?article_id=01910287543
---
How Do You Put A Tuna On A Treadmill? And Why? Researchers Examine Lives Of Tuna In The Open Ocean
May 21, 2008 16:09 EST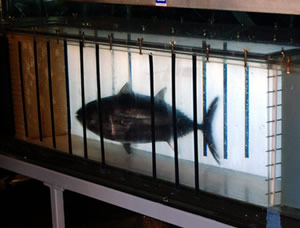 Dr. Block records how much oxygen bluefin tuna consume on a flume, or aquatic treadmill, to determine how many calories a tuna burns while swimming.
SAN FRANCISCO, California -- It's easy to find them in a can, but the lives of tuna in the open ocean have been a mystery to scientists. Thanks to a tagging program, Monterey Bay Area scientists are learning that these underwater sprinters travel thousands of miles around the Pacific. Now they're also working to discover even more about lives of sea turtles, sharks and other Pacific predators as the threats to their survival increase.
The story is from Quest, a science show at KQED, the PBS station in San Francisco.
---