Underwatertimes.com News Service - June 17, 2010 14:56 EST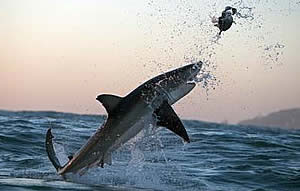 Ultimate Air Jaws kicks off Discovery's Shark Week 2010
SILVER SPRING, Maryland --
Off the coast of South Africa, massive one-ton great white sharks blast from the water at 25 mph, with almost no warning, to pull a sneak attack on the seals that congregate there. Ten years ago, Discovery Channel premiered AIR JAWS which explored this phenomenon. It was an instant hit that still remains the fifth most-watched SHARK WEEK special of all time. But that was before HD. Now, producer Jeff Kurr goes back to the scene to investigate the aerial attacks armed with state-of-the-art equipment in the one-hour special ULTIMATE AIR JAWS, kicking off cable's longest-running event –SHARK WEEK 2010 – on Sunday, August 1 at 9 PM ET/PT.
Using the very latest in technology, including an HD camera that shoots in super slow motion – 2,000 frames per second, or 20 to 30 times slower than "typical" slow motion footage – Kurr and shark expert Chris Fallows slow down the footage of a breaching shark from one second in real time to almost a full minute. The unparalleled resolution provides so much detail that you can literally count every tooth in the shark's mouth. Fallows and Kurr also employ a submarine and remotely operated helicopter to capture this incredible footage.
Technology also plays a key role in INTO THE SHARK BITE, a special where viewers can watch the power of a shark bite filmed with the latest high-speed, high-definition cameras from extraordinary angles – ending up literally inside the jaws of sharks.
Also in this year's SHARK WEEK, find out how shark attacks can happen, and what you can learn to do so that neither you nor the shark gets hurt; learn valuable lessons from six people who survived shark attacks, and hear why they don't blame the sharks; hear what happened in 2008 when fear gripped beaches along the coast of California and Mexico in the wake of several horrific shark attacks and search for clues that might explain why sharks mistook four people for prey that fateful month; and dive through some of the most jaw-dropping moments from past SHARK WEEK specials to learn amazing shark feats, shark facts and shark science.
Online at discovery.com/sharkweek, users will have access to all-new videos highlighting the world's most amazing shark footage including airborne great whites, fascinating shark behavior, incredible bites and more. There are also shark behavior quizzes, a countdown of the top 100 awesome, bizarre and unbelievable facts about sharks, a profile gallery of the world's most well-known and weirdest sharks, the latest shark news, a countdown of who's doing the most to help sharks right now – and how you can help – and new SHARK WEEK-inspired games and interactives, including "Shark Munch" and "Shark Anatomy."
Once again this year, Discovery Channel will educate the public about the plight of sharks around the world through public service announcements. The PSAs will air each night during primetime, informing viewers about threats currently facing plummeting shark populations.
Discovery Channel is also proud to partner this year with Oceana, the world's largest international conservation organization focused solely on protecting and restoring the world's oceans. Each year, commercial fishing kills more than 100 million sharks worldwide, including tens of millions just for their fins. Some populations of sharks, including tiger, scalloped and smooth hammerhead and bull, have declined by 97 percent or more. As the oceans' top predators, sharks play vital roles in marine ecosystems.
Discovery Channel has donated funds to Oceana's shark conservation efforts. The two organizations are also teaming up to provide information about the plight of sharks – and what people can do to help – through blogs, social media outlets and public service announcements.