Underwatertimes.com News Service - December 27, 2005 00:00 EST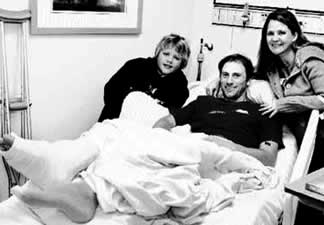 Brian Anderson (centre) poses with one of his three sons, Christian, 10 (left) and his wife, Lynnet.
PORTLAND, Oregon --
A surfer who fended off a great white shark by punching it in the nose said he learned the tactic by watching television shows such as the Discovery Channel's 'Shark Week'.
Brian Anderson, 36, was in hospital on Monday but was expected to make a full recovery from lacerations on his ankle and calf.
"It's like your worst nightmare," Anderson said by phone from his Portland hospital bed, though he also called the attack "an adventure which has made life that much more precious and interesting."
Anderson was at a popular surfing spot near Tillamook Head, south of the community of Seaside, on Saturday when something grabbed his leg.
Realising it was a shark, he slugged the predator repeatedly in the nose to get it to loosen its grip.
He said he learned from television shows, including the Discovery Channel's 'Shark Week', that a shark's nose is its most sensitive area.
When the shark finally let go, Anderson swam back to shore, dragging his badly wounded leg behind him.
Other surfers called 911 after he pulled himself onto the rocks near his home in Seaside, about 80 miles northwest of Portland.
"It felt like getting clamped in a bear trap," he said. "It was a piercing pain and then it went numb."
Anderson was hospitalised on Saturday, then released on Christmas Day in time to open presents with his wife and 10-year-old son.
When he returned for a check-up that evening, doctors in Seaside became troubled by the depth of the wound and the possibility of bone damage, as well as infection, and instructed him to check himself into a hospital in Portland.
Anderson's wife, who is also a surfer, believes her husband will soon be back in the water, but she is less thrilled at the thought of their son taking to the waves.
"We all went through some real trauma," said Lynnet Anderson, 42.
"Brian, he's always going to be the one far out there waiting for that perfect set to come in. But I'm not sure I'll ever let my 10-year-old back in the water."